Recent Uber and Tesla hacks have resurfaced the same question as last year – when Equifax was hacked.
"Is the cloud secure?"
One side of the coin says: Yes, the cloud is secure – when it's about the infrastructure of the cloud provider. For one – if there's an attack on AWS and Azure; they will defend their infrastructure from cyber attacks.
Other side of same coin says: No, the cloud isn't secure – when it comes to cloud consumers; their workloads are their own responsibility per the shared responsibility model. AWS and Azure do not care if 'your' (the consumer) instances/VMs are under attack.
Still confused? Alright, here's an example to set things straight.
***************************************************************************************************************************************
You have two options when it comes to procure a laptop – buy upfront for about $1,500 or lease for $30 per month for 3 years. Now, obviously getting it upfront is $1,500 – ($30*3*12=) $1,080 = $420 more than leasing over 3 years.
So, leasing seems like a good idea. There's however a catch. When you buy a laptop, you get an OS, some applications, may be antivirus and such. And, there's may be warranty for some software alongside the warranty for hardware for next three years. However, in case of leasing the laptop  you don't get anything but the bare-metal laptop. You have to install your own OS (of your choice – yay), and other applications such as office, antivirus, and such. However, you do get physical damage coverage all the same as upfront purchase.
** Now, hopefully that's comfortably equitable to on-premise vs. cloud concept. You can build your DC and spin up VMs or, you can go and grab compute, storage and network from a cloud provider, and spin up VMs. Latter gives (potential) cost savings, (definite) agility and elasticity, and (absolute) lower Time To Market (TTM) as result of elasticity and agility available to IT and Dev Ops.

Now, one fine day – your own machine breaks down. What do you do? Call the helpline and get onsite or remote help! If it's physical damage you get repairs done or if it's a software issue you get software support.
And, in case you leased the laptop – you can only call the vendor for fixing hardware. Since, the laptop came with no software, any software on it is outside of vendor's responsibility area.
***************************************************************************************************************************************
Now, match this to on-premise vs. cloud. On premise – you build something and get software with support (more often than not unless you're doing open source). On cloud however, you build your software instance (IaaS) atop the vendor offered compute, storage, and network. Now, if in latter case – your software / VM / Instance is breached; it's none of the vendor's concern to fix or even look into the matter.
Here's AWS Shared Responsibility model at a glance: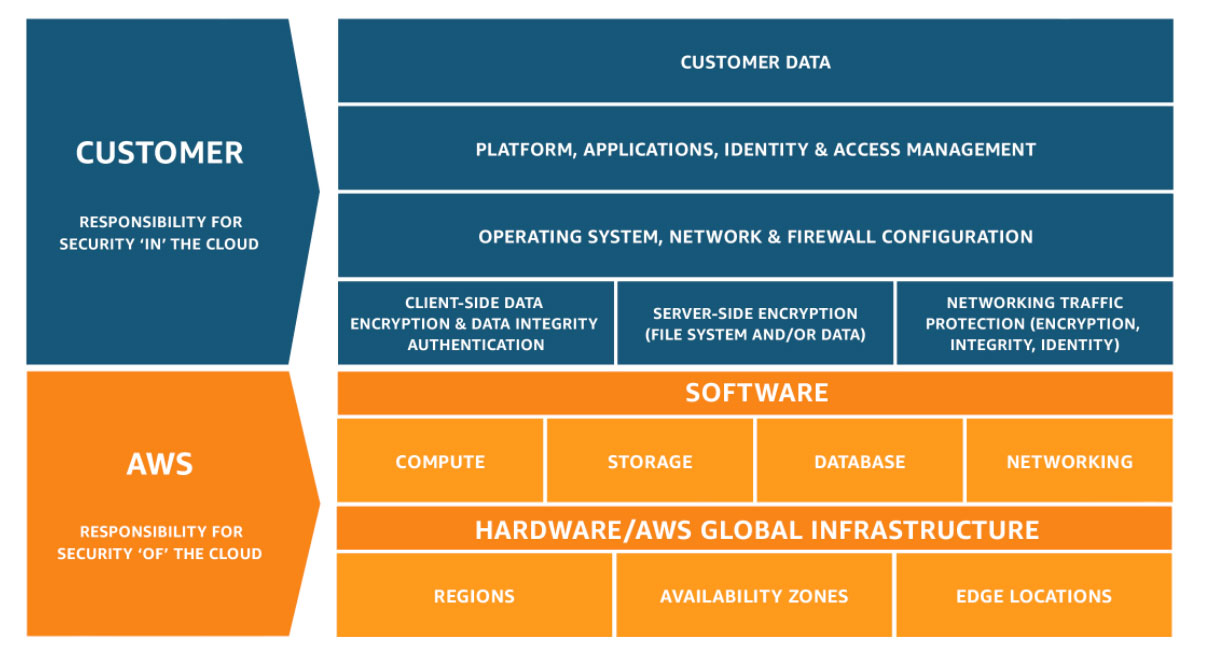 And that for Azure is as follows:
So, all in all it is important to understand where the vendor responsibility towards security of 'your' valuable assests ends and where 'yours' starts.
Coming back to previous point, Uber could have stopped the hack by adopting appropriate security controls at various levels. First, not to allow any Github code to be downloaded. Second, prevent any malicious code to be executed (yes, ATP is useful). Third, not to allow the threat to travel within the cloud (East-West). And finally, to thwart any attempt to connect from compromised instances to the perpetrator of crime (there's something known on lines of Anti Bot).
Please, do not forget that you were and still are responsible for security of what's dear to you. Putting data on cloud and hoping for miraculous security will not bear fruits anytime. It's a futile attempt to think that there's security by default.